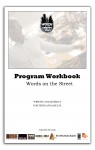 In addition to the workshops that are conducted by Solomon Jones, teachers are given an eleven-lesson Words On The Street curriculum that they may choose to incorporate into their language arts program. Through the curriculum, students learn to identify and utilize story elements such as setting, character, and plot. Using a four step paradigm consisting of perspective, preparation, penning, and publishing, students construct their own stories, study publishing options, and learn to better evaluate and understand the writings of others. The curriculum is based on national standards for English Language Arts.
STUDENT OBJECTIVES include the following:
Analyze passages within The Last Confession that amplify culturally relevant themes.

Articulate the connections between themes found in the text and real-life challenges that impact their communities

Identify and analyze story elements in The Last Confession such as main character, supporting characters, setting and plot

Develop their writing skills by using techniques employed to write The Last Confession, and; apply culturally relevant themes, standard story elements and professional writing techniques while writing and editing a 1,000 to 1,500 word short story.
The curriculum is an important element of the program, as voiced by Carol Rhodes, who administered the program in Fitzsimons High School and Bartram High School in consecutive years. To our delight, Mr. Jones developed a comprehensive curriculum to be utilized in conjunction with the reading/teaching of the novel. The multi-tiered curriculum provided a plethora of information regarding the novel including but not limited to: a synopsis of each chapter, character analysis, vocabulary, discussion questions, and background information. Mr. Jones agreed to host a Professional Development workshop for our staff where he addressed questions and even a few concerns teachers may have had in preparation for the reading of the novel.
An excellent administrator who acts as a liaison is a welcome and necessary element of the Words on the Street program. Once the administrator is in place, the program proceeds with workshops run by Solomon Jones and a curriculum that can be utilized by teachers. Click here to preview a sample curriculum.