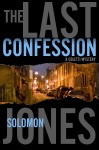 The themes that are discussed in the Words in the Street program are drawn from a book that was written specifically to be used in schools. With a wide range of cultural references and a multicultural cast of characters, The Last Confession allows students to see themselves and their environment in a way that spurs discussion not only of their own life circumstances and choices, but the life circumstances and choices of those around them.
At its core, The Last Confession is an examination of conflict, its causes and its consequences. Set in an urban environment that will be familiar to our target audience, the book will act as a catalyst that will allow participants not only to examine character, plot, and setting. It will also present an opportunity for students to delve into deeper issues. They include:
The consequences of violence on individuals and families.
The effects of the drug culture on urban communities.
The choice between violence and forgiveness.
The power of personal responsibility.
The effects of prejudice on interpersonal relationships.